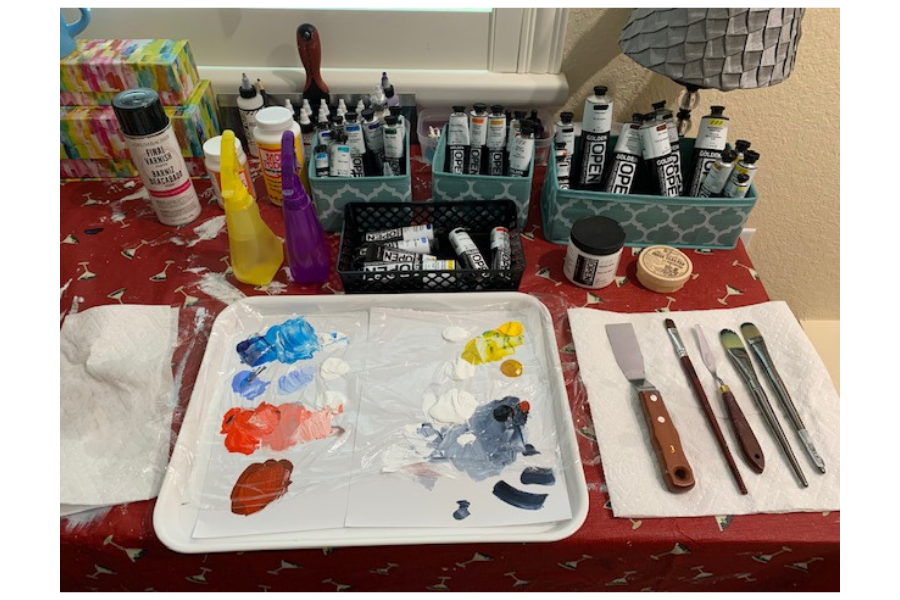 I am often asked about the items I use the most in my art studio. So ... here are a few!
I am often asked about the items I use the most in my art studio. So ... here are a few!
Acrylic Paint
I have tried a few different acrylic paints and have found that the less expensive options are great for experimenting with, but if you want a quality product that allows you to blend your colors well, you want a slow drying option. I love Golden Open paints - they are slow drying, and a little bit goes a long way. You will find that you don't go through your supply nearly as quickly as the cheaper "store brand" options.
This set of
Golden Open paints
is a great way to give these paints a try. It is very reasonably priced on Amazon and allows you to try out the paints in several colors before you invest in larger tubes of paint. It includes a larger tube of white, which we all know is our most used color! 
Once you have decided you like the paint,
available on Amazon also!
Palette
I used to use traditional paint palettes, the type with a hole in your thumb that allowed you to hold the palette while standing at your easel. Then I discovered these great trays - they hold much more paint, and with my work table right next to my easel, I really don't need to hold my paint while working!
If you prefer a traditional palette with the thumb hole,
these trays work great
- much easier to clean than the wood palettes I initially started out with! They have a nice smooth surface that is easy to mix paint on, and cleaning up is much easier than the old wood surface.
Palette Paper
Want to make cleanup even simpler? Use this palette paper on top of the paint trays! Cleanup is a breeze (aka, no cleanup at all!). While your project is a work in process, cover your tray of paint with plastic wrap. When your project is finished, toss the entire thing - your tray stays relatively clean and there is no need for cleanup!
Spray Bottles
I like having at least two spray bottles on my work table - one that sprays in a mist, for use mainly on the canvas as I am working, and one that sprays in a stream, for use mainly on my palette when I want to water down just one specific color and need some control over where the water is spraying. I like having different colored bottles so that I know which is which! These bottles from Amazon work great and were very inexpensive.
Brush Cleaner
I clean my brushes after every painting session. When I find a brush I love, the last thing I want to do is have it become ruined by lack of care. This brush soap is very easy to use and lasts a good long time. Simply wet your brush, swoosh it around in the soap dispenser, and rinse. Easy peezy! 
As a side note, I also reuse paper towels used when cleaning brushes. We go through a lot of paper towels as artists, don't we? I use them once to dry my brushes, tools, and hands, then put them in a stack next to my work table for use during the next painting session, when I use them to wipe my brushes and tools as I work. 
Cleaning Pads
Speaking of cleaning, how do you clean your palette knives? I like to keep my tools looking like new so that I feel good when I use them on a new piece of art - it is so easy to clean metal tools with these blue scrubby pads. Under $3 on Amazon, and they work great! A bit of water and a wipe or two, and your tools are as good as new!
These are just a few of my favorite things. I hope you found them helpful, and I will share some more next time!

Note: This post may contain affiliate links. By clicking on them and purchasing products through my links, I may receive a small commission.